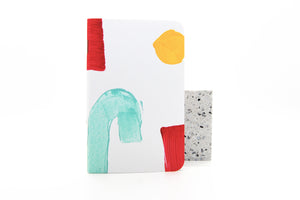 ARKWARD
Summer Colors Notebook
Sale price Price $8.50 Regular price $8.50
Bring bright colors to your note taking with our beautiful Summer Colors Notebook. Our hand painted notebooks are developed following great series of self developed techniques which make each one of our notebooks unique. 
-25 Blank Sheets.
-The design of each Notebook is different. 
- Select 3 Notebooks, get 25% off. 
- Size | 3.5" x 5.5"
- Add the message or initial you want on your notebook. Font 12 or 18. Email your customized note to info@arkward.net (Maximum 10 word)