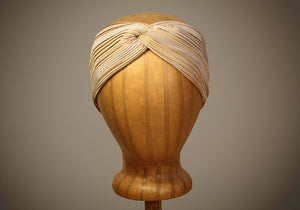 ARKWARD
Cream & Gold Turban Headband
Sale price Price $21.50 Regular price
The color gold is the color of success, achievement and triumph. Associated with abundance and prosperity, luxury and quality, prestige and sophistication, value and elegance, the psychology of this color implies affluence, material wealth and extravagance. Bring these feelings all to your day by wearing the Silver & Gold Plisse headband.
This stylish Cream & Gold wide twisted Headband is an amazing choice that fits your needs as yoga headband, running headband or for any occasions!
Seamless front and back.
This headband is made of Plisse Fabric and has stretch and flexibility to fit all sizes. with non-slip grip. perfect accessory for girls of all ages.
*Fabric has some stretch